For the team, communication is key; each morning we partake in a daily standup meeting. The aim of this is to ensure that everyone knows what they're doing; allowing for self-structure, monitoring progress and status, and also to keep each department in the loop with one another.
So how does it work? We all jump onto a call via Google Hangouts around 12 pm. Hurree's Co-Founder and COO, Rachel McMullin, is the facilitator; she goes around the room and addresses each person one-by-one, enabling everyone to tell the team what they have achieved in the morning and what their aim is for the rest of the day. This mimics Hurree's normal office practice.
Why do we do this? Simple; it can be easy to feel alone when you're working from home, especially when you have been for a number of months, and having a daily standup (even a digital one) is a surefire way to provide direction, structure, and to evoke a sense of connectedness.
This is something that Hurree has maintained and achieved remotely every day, without fail.
The same can be said for Sales, Marketing, Product, and Operations meetings; they still fall on the same day as before, at the same time, each week, without exception. Structure and communication is a key element that has been sustained during lockdown for the Hurree team with relative ease.
But it's not just about making sure that we sustain banter or tell each other what we did on the weekend. COVID-19 and the introduction of working remotely have impacted our marketing strategy and aspects of our practice that are ideally solely carried out within a professional office setting. Take podcasts, for example. The Hurree team created The Marketing Slice at the beginning of December, 2019, in our office's media room. This room is partially soundproofed and has a specialist microphone, camera, and tripod. All of these elements were set up by our designer in a specific way, in order to achieve a particular, consistent sound. Fast-forward 3 months and… BAM!… The team is working from home without any professional equipment or a distinct location. Instead, all we have left is the creativity and the will to record and publish content.
So, what do we do? One of the things we do best, of course. Action research: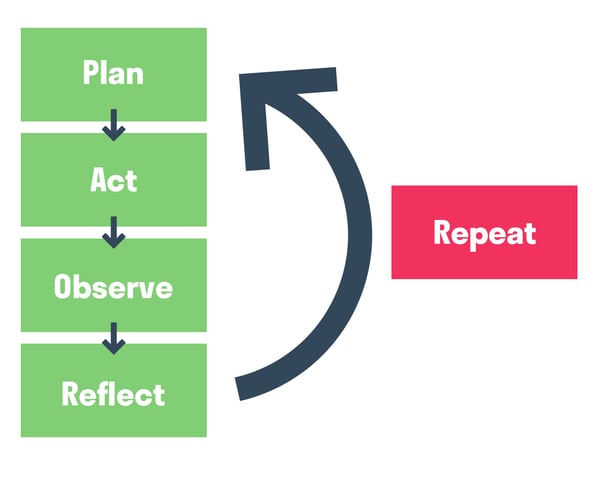 That's right. Plan, act, observe, reflect, and then repeat. Our marketers independently experimented with a number of different methods for creating podcasts at home, using different tools for recording and editing, without the equipment that they were used to. And, you know what, aside from getting used to recording with earphones instead of a mic, it worked! People function in individual ways, so it's no surprise that most of our marketers had different preferences when it came to recording and editing tools. Some stuck with the original methods of recording with Quicktime and editing in iMovie, and others favoured the likes of Photo Booth or GarageBand.


When you're creative and passionate about what you do, it's easier to overcome obstacles that are in your way (and, as a tech company, adapting and conquering tech-related issues should be a breeze for us anyway, right?).
Lockdown and the current global climate is something that no-one could have planned for, but the show must go on and for Hurree, this is certainly true.
Thinking outside the box
There's more to motivating a team than just regular chats and cohesive problem-solving. And that's where Hurree's CEO, Aaron Gibson, really made a difference to life in lockdown for the team, in a number of different ways. Let's take a look at these innovative, compassionate, and exceptionally generous means of motivation: