A large part of making sure that your KPIs and goals are SMARTER is making them measurable. But how we measure these can be tricky. The specific criteria you use to measure will be dictated by the KPI itself. For example, some will be quantitative and others will be qualitative.
The main thing to remember is that KPIs should measure performance, not the activity. Actions, not results. This means that instead of this:
I want to send 10 marketing emails this week.
A KPI should look like this:

I want to generate 10 MQLs from marketing emails this week.
The first example is more of a metric than a KPI because there is no real way to measure actual performance. As we said when we outline the difference between metrics and KPIs, KPIs are more than a quota, they are an indicator of how well a person, team, or business is performing.
When it comes to how to measure specific KPIs, that will depend on what type of KPI it is and what data you are taking into account. For example, a revenue-based KPI will likely be measured in terms of revenue generated whether that's MRR, ARR, or some other method.

What will be common across all the KPIs you do track, or should be, are the tools you use. There are a lot of ways to track your KPIs, some easier than others. The most common forms of tracking, and importantly, sharing your data will be KPI reports and KPI dashboards.
What is a KPI Report?
A KPI report is a type of report that uses a mixture of visual elements - think charts, tables, graphs, etc. - and written elements to make data more accessible and digestible. However, it still provides detailed information surrounding your chosen data points to allow for in-depth analysis. Typically, KPI reports are static documents that you update at a set point in time, whether it's for a monthly meeting or showing your yearly results.
What is a KPI Dashboard?
A KPI dashboard is also a visual display of important information i.e. interactive charts and graphs, but they allow for a quick, streamlined review and analysis. Any good KPI dashboard allows users to explore the data behind their indicators and discover actionable insight. Essentially, a KPI dashboard transforms large swathes of data into digestible packets of information that allow your business to make data-driven decisions. The main driver of a KPI dashboard is that it unites different data sources so that users can easily explore massive data sets in an at-a-glance visual representation.
KPI Dashboard vs KPI Report
KPI dashboards are real-time snapshots of specific data points. They update as and when the data gets fed into them, and are a great way to distil complex data down into understandable, actionable packets of information.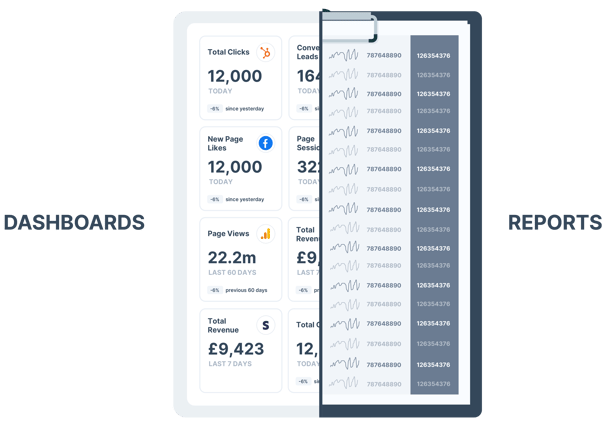 Related reading: 6 Benefits of KPI Reporting
Benefits of a KPI Dashboard
Provide a quick overview of the most important data for stakeholders, managers, and teams
Offer an early warning for any potential issues or problems
Provides the information and analytical tools to proactively fix any issues that have been identified
Provide a unified view of what all teams and departments should work towards, preventing any miscommunication or misunderstanding
KPI reports, on the other hand, are static documents that offer detailed overviews of a much larger picture. KPI reports collate data over a specific time period, for example, if you want to understand how well your outbound sales campaign worked in Q4. KPI reports are used when a real-time dashboard may not be enough to fully gauge the success and draw conclusions, for instance, when you need to see data over a longer period of time.
For that reason, when it comes to everyday tracking and measurement of your KPIs, a KPI dashboard can be really useful. You can then use KPI reports when a fuller picture is needed or when you want to see a more detailed view of your main data points.

Tips for Creating an Effective KPI Dashboard
Know your audience
When you're setting up your dashboard, ask yourself - who is this for? Knowing that will make it easier to decide what to include on your dashboard. Is it just for your own use? Or will this be seen by upper management?
Once you know the answer to these questions, ask yourself what they want to see. Or better yet, ask them. It doesn't hurt to confirm what sort of information your team actually needs to see in your dashboards to avoid any confusion or time wasted.
Different people may want to see different information, and that's ok. You can always create more than one KPI dashboard for each set of data, or you can get creative with building it out. Just remember not to overwhelm your audience with information.
Keep it simple
With that in mind, another tip for building your KPI dashboard is to keep it simple. If you include too much data or overcomplicate, you are negating the benefits of putting a dashboard together in the first place.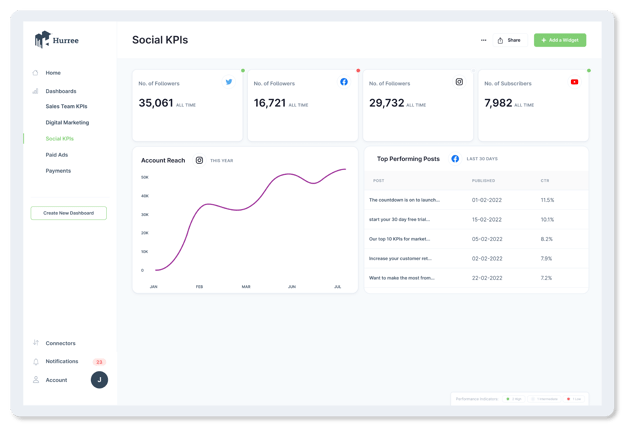 Make sure you're only choosing the most important KPIs as part of your dashboard. As mentioned above, if you have conflicting audience needs, maybe consider building more than one to avoid overwhelming people with information.
White space is your friend
Just as it's important to keep your information simple, you also need to ensure the design and visuals of your KPI dashboard make it easy to comprehend. The information is meant to be easily digestible at a glance, so a complicated or overwhelming dashboard design may interfere with this. Being aware of the whitespace in your dashboard will help.

Source: Adobe
Tell a story
KPIs are useful on their own, but they can be even more beneficial when they tell a story. What does that mean? Well, first off, context is important. Some indicators may need a description, so make sure you have a title and overview that tell the viewer exactly what they're looking at.
It's also important to include metrics that show each stage of the process.
For example, if you're including your lead to MQL conversion rate, you'll probably also want to include your MQL to customer conversion rate. Including both KPIs means you see the full picture of your leads, whereas only tracking one provides an incomplete story and can influence making the wrong decision.
Make it actionable
If you've chosen the right KPIs, this one will be fairly easy to achieve. However, you'll want to check that you're presenting the information in a way that can be used to actually evaluate performance and act accordingly.
A good way to do this is to include your overall goals and targets, and to compare your KPIs directly to them. This can either be the previous periods' results, industry benchmarks, or your own growth targets.
Make sure it's easy to update
Again, this may seem obvious but a dashboard that is difficult to update isn't fit for purpose. The whole reason for a KPI dashboard is to make it easy to track your progress, part of that is having up-to-date data that shows you the information you need. So when you're building your dashboard, or even choosing your dashboard software, you want to make sure it's easy to get the most up-to-date data.
And it's just as important that you can change the dashboard itself quite easily, especially for certain industries. Industries like SaaS, tech, and marketing change on a whim, and the information you need to track may change regularly. You want your dashboard to make the process efficient and intuitive.
Consider the type of dashboard you want to build
There are a number of different types of KPI dashboards, beyond even what industry or function your team serves within your organisation.
Strategic/Executive: Provides high-level information to managers and executives that allows them to understand the overall health of the business. It will also help identify opportunities for growth or improvement. These don't need to be overly detailed and should include simple, aggregated metrics.
Analytical: This type of dashboard helps understand trends across different time periods, and takes into account different variables. It will likely contain more detailed data than other types of dashboards because the ultimate goal of the analytical setup is to understand both your goal and the underlying activity of the team/department. It's also important that these types of dashboards are interactive so that multiple variables can be explored.
Operational: Here, you'll monitor real-time data in order to flag performance issues in real-time. The most important aspect of these is to provide alerts to specific users and provide the exact information they need to quickly solve the problem and get things back to normal.